Patricia Dreher's Art for the Floor
The secret to making art for the floor is in the preparation of floorcloths.
'Floorcloth' is a historic name -- a term of art -- for a genre of floor covering that was developed in Europe in the 1700s. Originally, artists applied their designs to oilcloth. These must have looked somewhat muddy and drab. Then artists began to apply the lacquers, paints, and shellacs of their time to untreated commercial yardage made of cotton, hemp, and flax, so that the whole palette available for wall pieces could now be transferred to the floor. Floorcloths were prestige items in the homes of American colonists. At least three presidents were among the prominent Americans who owned floorcloths -- George Washington, John Adams, and Thomas Jefferson. President Jefferson had a favorite floorcloth in the south dining room of the White House. You can read more about the history of this genre of art here.
The floorcloth artist encounters challenges unsuspected by most painters of wall pieces. Canvas for wall pieces comes expertly stretched on frames. The rigid frame fixes the fabric's border, controls shrinkage, and eliminates sags and wrinkles. As the floorcloth beginner soon discovers, working on unmounted fabric is a whole other ballgame. It takes a lot of effort and skill just to make straight flat edges for a free-floating mat. Round or polygonal mats present additional challenges. Preparing a canvas to dovetail precisely with the irregular dimensions of a room, so that it can be glued permanently in place without stretching or wrinkling, demands extraordinary experience and technique. There are few if any floorcloth makers today who can approach Patricia Dreher's track record at creating advanced shapes and wall-to-wall installations.
Patricia Dreher made her first floorcloth in 1981. It is still bright and beautiful and in everyday use today. Dreher can make any scratch or gouge go away by judicious repainting and recoating. Made with premium-grade art canvas and artist's acrylics, and coated with modern top-of-the-line water-based clear finishes, Patricia Dreher's floorcloths are as tough as the best commercial synthetic floor coverings and should outlast the floorplanks they rest on. Maintenance is a matter of damp mopping with warm water, fortified if necessary by ordinary non-abrasive cleaners. Waxing is neither required nor appropriate. The pieces have a matte surface finish that plays well with other textures.
Patricia Dreher's floor pieces are commissioned artworks. She works in collaboration with the client and/or the client's architect and/or interior designer to produce one-off signed floor paintings that resonate with an over-all vision for the space. Because of the importance of the floor area as a visual foundation, clients who are specifying a new project or doing a complete remodel may find it advantageous to consult Patricia Dreher early in the design process. Turnaround from design acceptance to installation of a wall-to-wall floorcloth is about six weeks.
Patricia Dreher came to floor art as a classically trained painter. As her landscape wall pieces will testify, she is fluent with the brush, and delights in faithfully rendering the infinite nuances of hue and shade found in nature's palette, particularly at dawn and dusk. She is also a proficient illusionist. She spent years studying and lecturing on surface design, particularly textiles. Then she painted scenery at the San Francisco Opera. As a result, she is a master sorcerer at making two dimensions appear to be three. Click for Patricia Dreher's curriculum vitae. Seeing some of her floor pieces, you may swear you are looking at chipped paving stones, or craquelure tile, or worn marble mosaic, or a variety of textiles ranging from Diné wool to Japanese silk. You may even think you see a wine stain or a fallen leaf. Every chip, crack, thread, stain, and leaf is a figment of Patricia Dreher's artful and tireless brushwork.
Great cultural range is another of Patricia Dreher's outstanding qualities as an artist. Look at the collection of works grouped here under the "Kimono" heading. Classical motifs of Japanese fabric design, themes from old Chinese paintings, and thoroughly modern architectural shapes and abstract gradients come together here in a product that is distinctly Asian in inspiration, yet always original and never derivative or conventional. From the same artist, incredibly, comes the group of "Mesa" designs, faux rugs inspired by indigenous weavers -- but you will not find anything like these Dreher originals in the museums or reservation shops. Prefer something more European and formal? Dreher's "Pompeii" motif answers the call with elegant tesselations that might have delighted the ancient Romans vacationing in Campania. Finally, under the "Fusion" heading, Patricia Dreher assembles an astonishing diversity of styles, from pieces that resemble Persian tapestry to others that fit into contemporary galleries. This web display of Patricia Dreher's floor pieces is much more than a decorator's showcase; it is a gallery of art with exceptional breadth and originality.
-- M.N. 4/28/04
Use the "Back" function of your browser to return to this page after clicking one of the images below:
Patricia Dreher can produce floorcloths as free-floating area mats, such as this round one in the "Pompeii" style, or ...
... as wall-to-wall installations glued into place permanently, such as this "Kimono" motif bathroom.
A Patricia Dreher floor piece is a commissioned, signed work of art.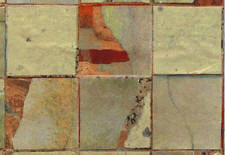 Looks like old tile (detail) ...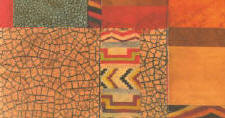 ... or craquel glaze (detail) ...
... or woven rug (detail).